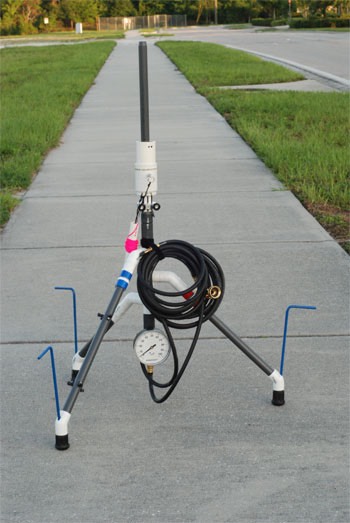 What's A Bigfoot Water Rocket Launcher?
Leading the world as the best device available for launching water rockets for all venues. Bigfoot goes far beyond just simply launching water rockets. Adding so many extensive safety features culminated to a fully developed launcher. Here is a list of some important safety features:
Dual triggers prevent accidental launches.  Launch supervisor releases control to student just before launch.

3 each steel ground stakes secure launcher into ground to prevent tipping over.   

Straight line rocket trajectory. Internal launch tube slides far  up inside soda bottle & acts as a guidance rail to aim and 

direct water rocket in a predictable straight line from the launcher, every time.

Pressure is limited to 100 p.s.i. with a quality brass pressure relief valve. This is a maximum safe pressure for soda bottles.

100% grip on water rocket. No accidental or misfired rockets due to the trigger system failing to hold onto a pressurized rocket.

12 foot remote control. After rocket is mounted on launcher, all other tasks are performed from 12 feet away.  At this distance, you can fill rocket with water, release any excess water, fill rocket with pressurized air, and release any excess air pressure, and pull string to trigger a launch.

Extra large 3-1/2" diameter pressure gauge (0-100 p.s.i.) allows easy reading of pressure in rocket, even from 12 feet away.

Trigger pins can not slip out, causing accident launches. When trigger pins are inserted into trigger housing, they

CLICK

into place.  Spring loaded stainless steel ball bearings are mounted on the side of the stainless steel trigger pins that must be purposely pulled out to launch a rocket.

Female PVC parts have laminated metal rings to prevent pressurized PVC from splitting. This prevent breakage from over tightening and or pressure.

Super strong construction. The foundation center tube is double walled, constructed of a tube within a tube.  It is a laminate of Schedule 80 PVC and 

Polyester-grade industrial 

laminate fiberglass tube with hardness rating of 

Barcol 

50-55 (very strong). Excellent performance for both tensile and impact strengths. 

Quality of workmanship adds most considerably to safety.  Many parts are machined to super tight tolerances.

Experience also adds to safety. After 18 years of designing, manufacturing, selling launchers & listening to my customers, who are normally educators, I've added about every good suggestion as a feature to the Bigfoot Launcher.  Then I added more safety features for good measure.